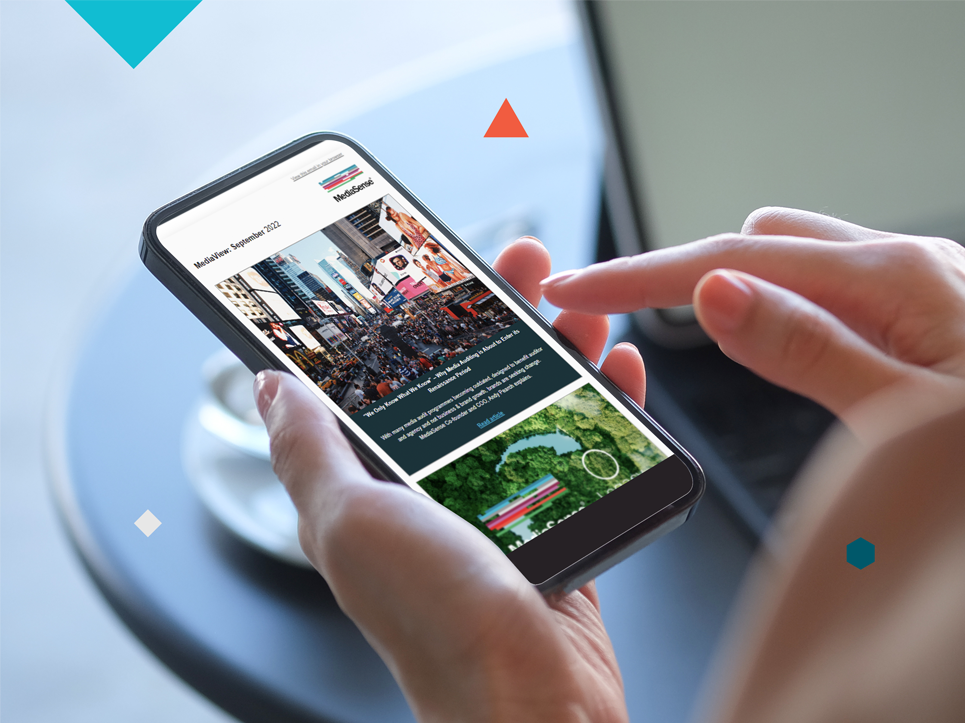 Welcome to the September 2022 edition of MediaView, MediaSense's media and marketing newsletter.

CONTENTS

"We Only Know What We Know" – Why Media Auditing is About to Enter its Renaissance Period

With many media audit programmes becoming outdated, designed to benefit auditor and agency and not business & brand growth, brands are seeking change. MediaSense Co-founder and COO, Andy Pearch explains.

Read article


The ESG (Environmental, Social and Governance) Agenda: How Brands can Make Conscious Choices that Matter

MediaSense & Legacy partnership will improve ESG performance for clients, media owners and agencies and will become the new methodology to measure ESG success.

Read update
WFA and MediaSense Global Talent Report Launches

With contributions from 400+ key decision makers from many of the world's largest advertisers, agencies, media platforms and technology companies, the research represents the largest study of its kind, and reveals how the media industry is facing its "worst-ever" talent crisis.

Download Media's Got Talent?
MediaSense Consortium Reappointed to Media Audit, Financial Compliance and Benchmarking Brief for Crown Commercial Service

MediaSense has been reappointed to deliver Media, Financial Compliance Auditing and Market Benchmarking to the Crown Commercial Service with immediate effect.

Read update
Are the Walls Set to Fall Down on Tech Monopolies?

Over recent weeks there is mounting evidence to suggest tech walled gardens may be slowly coming down, with greater optionality being ushered in through both stealth and design. Jamie Richards discusses.

Read article


MediaSense in the Press
Digiday: M&A Shows no Signs of Letting up Despite Economic Headwinds
The Financial Times: Advertising Agencies Ask 'Where are all the People?'
Campaign: MediaSense Supports Virgin Media O2 in Media Review
The WFA & MediaSense Media's Got Talent? Report in the press:
Campaign / The Drum / WARC / New Digital Age / Mediapost / The Media Leader / Ad News / Marketing Interactive / CDP Institute / Recruiter
Op-eds: The Media Leader / Digiday / The Financial Times
Work for us?

We are committed to creating a highly inclusive and rewarding workplace and our teams are driven by a shared passion towards insight, innovation, rigor and collaboration.
The following opportunities are currently available:
https://www.media-sense.com/careers/