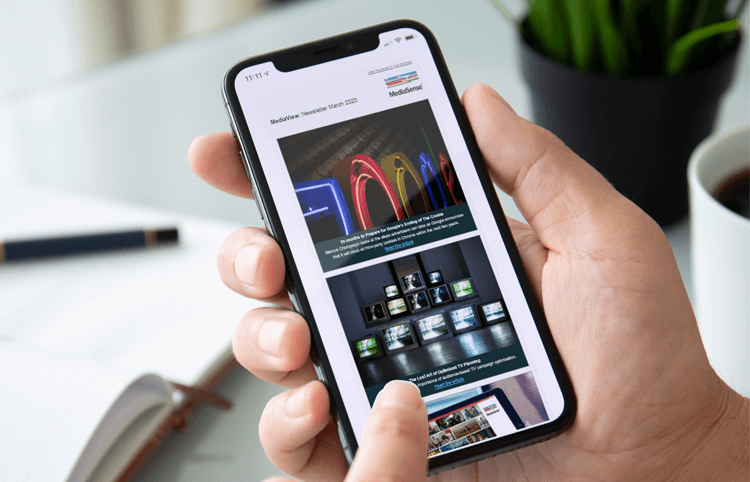 Welcome to the March 2020 edition of MediaView, MediaSense's monthly media and marketing newsletter.

CONTENTS: 

24 months to Prepare for Google's Ending of The Cookie

Marcus Chomyszyn looks at the steps advertisers can take as Google announces that it will block all third-party cookies in Chrome within the next two years.

Read the article.


The Lost Art of Optimised TV Planning

Ian Anders looks at the importance of audience-based TV campaign optimisation.

Read the article.


MediaSense Launch The TViQ™ Report

The best performing TV campaigns and advertisers from 2019. Register for your copy here.
Read the article.


Ex-LVMH Vice President of Media Services, David Strome Joins MediaSense

MediaSense announces appointment of David Strome to support North American client portfolio and growing demand for its services.

Read the article.


ISBA And MediaSense Form Partnership

ISBA and MediaSense partner to provide new perspectives on media transformation and digital/media performance measurement.

Read the article.


News in Brief – A Topical Look at a Month in Media and Marketing

MediaSense Analysts Ben Parnall and Anita Barnett round up the key stories in media and marketing.

Read the article


The Marketing Society Podcast – in Conversation with MediaSense's Andrea Bernhardt and Engine Transformation's Emma Robertson
Discussing the trend of in-housing, the death of the British high street and in light of International Women's Day, what changes Andrea and Emma have seen for women in the marketing industry.