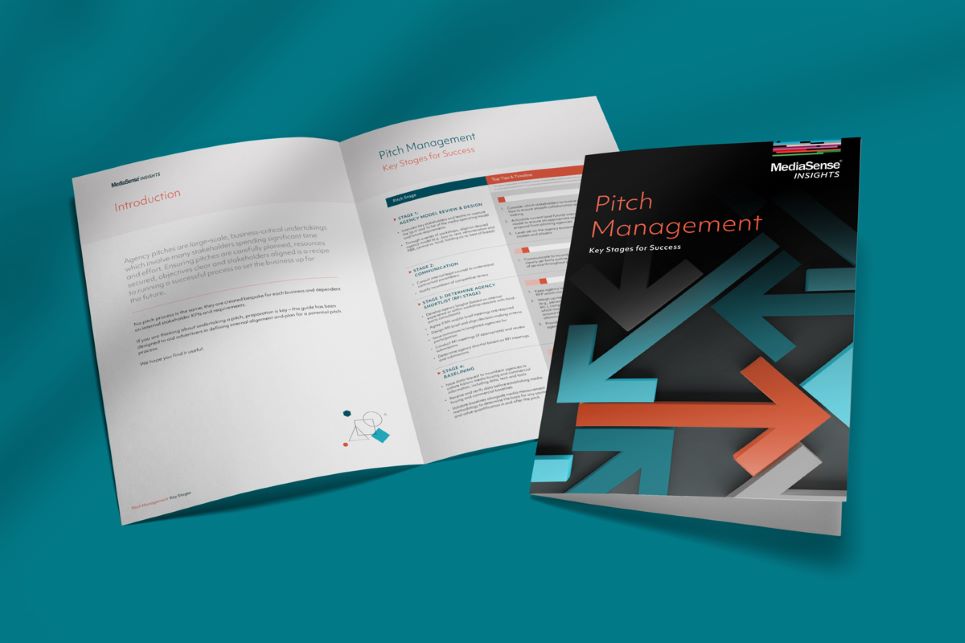 MediaSense are delighted to share the second guide in our MediaSense Insights series. For this second instalment, we look at the key stages in a pitch management process – covering the milestones for advertisers to consider before running a pitch.
Media pitches are large-scale, business-critical undertakings involving many stakeholders investing significant time and effort. Ensuring pitches are carefully planned, resources secured, objectives clear and stakeholders aligned is a recipe to running a successful process.
No pitch management process is the same; whilst there are common key milestones, the process is customised for each business and dependent on internal stakeholder KPIs and requirements.
If you are considering a pitch management project, preparation is key – this guide has been designed to aid advertisers in defining internal goals and planning ahead for a potential pitch process.

Pitch Management – Key Stages for Success includes:
Key stages for running a successful pitch process
Top tips and learnings to support each stage – based on our expert experience and industry best practice

We would highlight the following considerations as central to delivering a successful pitch process and ensuring a positive outcome:
Operating Model
Design the desired external operating model at the outset and clearly articulate it to the participating agencies. This will ensure the pitch process runs efficiently, enables agencies to offer a service model, thereby ensuring a fit-for-purpose, future-facing agency model.

Alignment
Agreement among the stakeholders as to 'what success looks like' and what a good outcome would be against all key criteria is paramount to managing different expectations and goals across your organisation.

Preparation
'Fail to prepare, prepare to fail' couldn't be more true. Create a detailed end-to-end timeline, assigning roles and responsibilities to all parties involved, noting where flexibility may be needed.

Decision Making
Ensuring alignment at the start of the process on how, by whom and at which key points in time decisions will be made and getting key stakeholder buy-in is of upmost importance.

RFP Stage
Develop an inspiring RFP, rich in information, with an offer to share insights and data as a way of enabling agencies to do great work. Share your Ts & Cs early on, thereby ensuring all agencies understand the terms and rules of engagement.

Availability
Ensure key stakeholders are prepared to engage with all agencies and will be available and committed at specific times, showing respect for the agencies who put their 'heart and soul' into preparing pitch responses (see our recent Pitch Smart & Media Talent studies to learn more). It is a significant investment of time, cost and effort for all parties involved, so ensure it is given proper care and attention.

Collaboration
Being open to collaborating with all participating agencies as a true prospective business partner through workshops and consultations will ensure you gain valuable information and understanding of each agencies' capabilities and strengths, setting you up for a successful partnership with the appointed agency.

Download your copy of the Pitch Management – Key Stages for Success guide here:

You can find more information on MediaSense's Pitch Management services here.