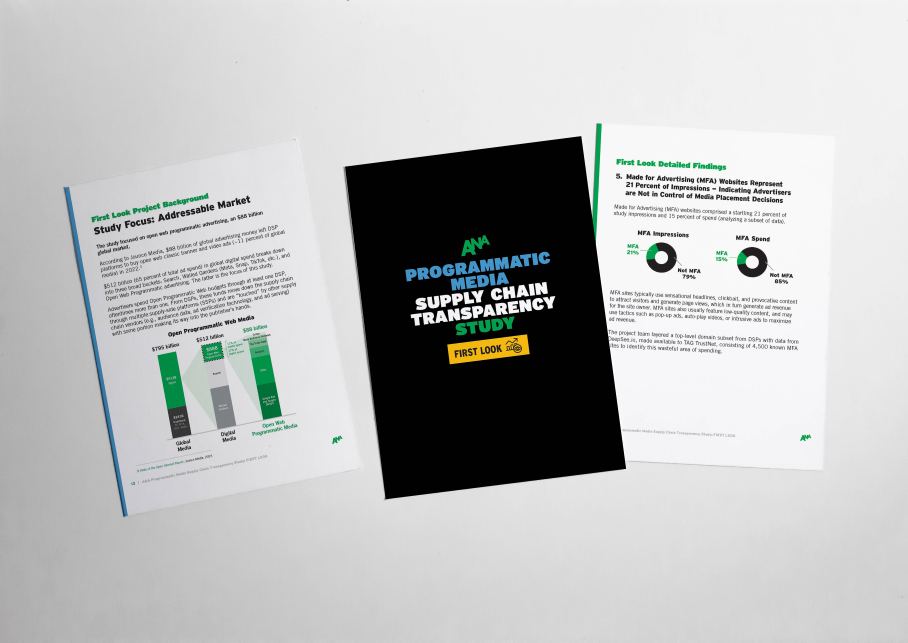 A headline finding from the ANA's recent programmatic media supply chain transparency study suggests that Made for Advertising (MFA) websites represent 21% of impressions and 15% of programmatic media spend, causing a small stir in the industry (note the gap between impressions and spend which means these impressions were cheaper than average).
Unfortunately, this finding should not come as a surprise and echoes findings from previous industry studies.
We recently wrote about 'farmed' content, also known as 'Made For Advertising' (MFA) content, uncovered in a client audit, which exists solely to sell advertising space, with or without real human visitors.
We noted "MediaSense uncovered that one of the highest spending domains was entirely farmed content – only noticeable after reading the title and content carefully. This had passed through the planning process, DSP targeting segments, ad verification and several months of reporting".
Even if these sites are visited by humans, ads often appear in a cluttered environment which reduces ad impact. According to a 2019 IAS study, ads that were viewed in "high-quality mobile web environments" were seen "74% more favourably than the same advertisements seen in low-quality context".
Given the prevalence of these sites in the ANA study and the rapid technological advancements of Large Language Models (LLM), like ChatGPT, are bringing to the industry, which may exacerbate the issue further – the question for advertisers is, what can I do today?
Set up an inclusion list: This means only serving ads on domains that are proven to be actively visited by humans.
Actively exclude MFA sites: As we noted before, developments in LLM models will only make these sites harder to identify. Some technology in the market exists to identify these sites, but it is best used to supplement a manual review of sites when setting up your inclusion list or, if inclusion lists are not an option, refining your exclusion list.
Consider whether media partners are encouraged to deliver effectiveness over cost efficiency: Practical steps like increasing direct buys, developing JBPs with SSPs and publishers or simply revaluating targets to include ad verification metrics will improve quality and naturally reduce spend on MFA sites, however each step requires resource. It should be clear to partners there will be a benefit, or requirement, to focusing on effectiveness over efficiency.
In the mid-long term, advertisers should consider a new model of measuring media effectiveness. A recent MediaSense partnership achieved just this, by developing a model to incentivise the right behaviours with their agency using a model that intelligently and responsibly protects media efficiency while concurrently enabling business growth through the prioritisation of media effectiveness.

Talk to our team about optimising your media effectiveness model.