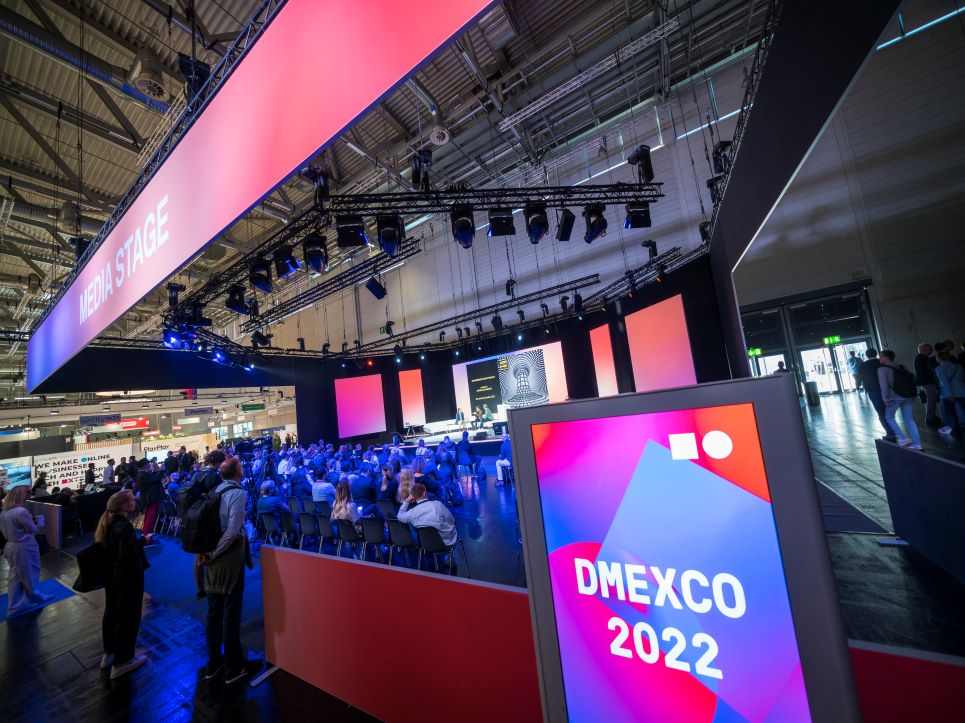 Following a three-year hiatus, DMEXCO was back for 2022, with over 40K people from the world of advertising and ad-tech descending on Cologne. Dan Brown and Leonardo Oliveira summarise key learnings from MediaSense's visit:

Connected TV
As linear TV consumption declines, CMOs are under increasing pressure to reach audiences through digital channels. No longer an emerging platform, Connected TV should benefit from this shift and Sir Martin Sorrell highlighted this during his fireside chat 'What we can do for clients in challenging times'. Sorrell expects that CTV and OTT will come to the fore in 2023. However, there are challenges for brands around measurement and safety which requires a consistent set of standards – this was a key concern for Vodafone, who expressed a need to plan, buy and execute campaigns holistically and effectively (i.e. not only within walled-gardens).

E-commerce & Retail Media
There was a significant amount of floorspace dedicated to E-commerce this year, with retail media predicted to be the largest growth driver for digital advertising. The hype surrounding retail media may be justified with advertising investment expected to double to $143B by 2024 (Zenith, 2021). The ecosystem is still dominated by Amazon with limited opportunities to scale across other retailers. Social platforms are following suit with Twitter, Pinterest and Snap focusing on their commerce propositions and ability to drive ROI for advertisers.

Web3
Not without its sceptics, Web3 is beginning to show signs of advancement – the imminent challenge for brands is to now find innovative ways to engage and entertain audiences in this space. 'Metaverse' 'NFTs' and 'Tokens' aren't only common digital words but new technologies and opportunities for brands to cross consumer bridges between the digital and the physical.

Identity solutions
ID solutions remain on the top of agendas despite the delayed demise of the third-party cookie. Harnessing 1st party data, utilising log-in networks, plus various other solutions were on show. It feels like we have finally moved to a new stage of the discussion, with a much more fragmented approach than we have seen previously. Ultimately, what will work for advertisers is something that can scale – unfortunately, as an industry, we do not seem to have the answer just yet.

Sustainability
As anticipated, sustainability was a dominating theme in 2022. The IAB did a fantastic job of unpacking the methods available to advertisers to reduce the drivers of Co2 emissions in the supply chain. Net Zero Marketing was the title of a panel discussion on the Web3 stage, Samuel Rueff from Bayer outlined their 'Media for good' vision and how they are attempting to reduce the carbon footprint of each campaign through tactics such as reducing ad file size, minimising fraud, and increasing viewability.

Existential threats
The recession, war in Ukraine and global economic pressure were topics that surfaced in every talk. Advertisers are in the midst of a challenging operating environment with economic pressure, post-pandemic recovery, fragmented technology, the talent crisis and geopolitical threats all contributing.
The prevailing opinion was that the uncertainty caused by macro events will lead to an increased focus on lower-funnel investment, with advertisers doubling down on search, E-commerce and media investment connected directly to ROI and sales. We feel this may be slightly short-sighted, as previous and unpredicted global events (e.g. COVID) have shown us that lower funnel costs inflate, with deflation occurring in mid-upper funnel environments. The turbulent and uncertain environment has the potential to become another opportunity for growth.
If you'd like to discuss any of the topics raised in this article, please speak to: