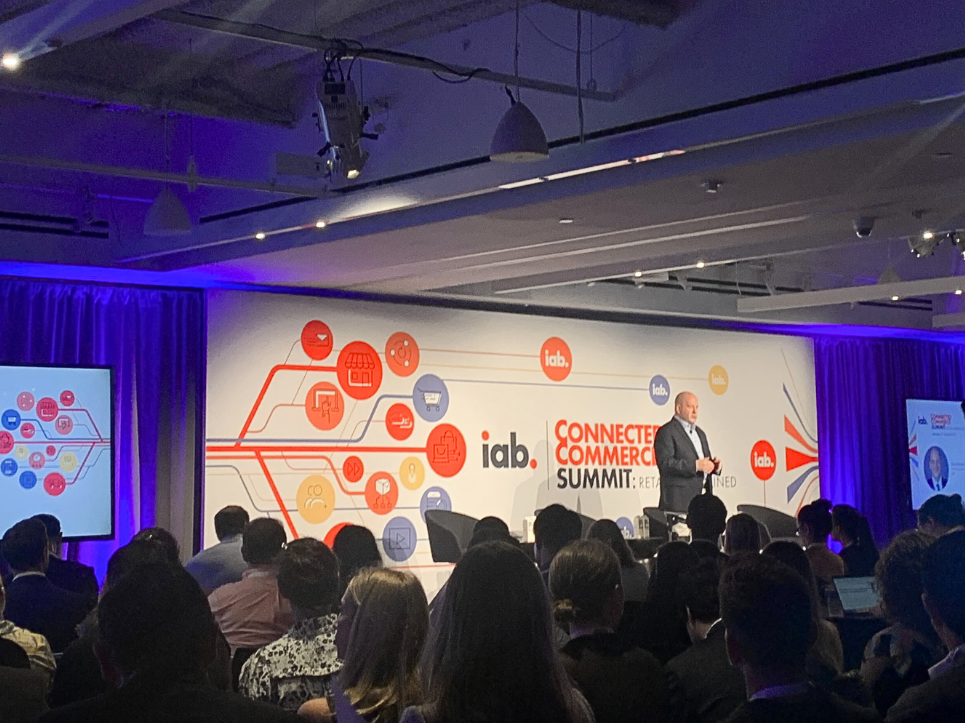 Earlier this month, Kelly O'Neill – Digital Director – attended the Interactive Advertising Bureau's (IAB) inaugural 'Connected Commerce Summit' event that saw industry leaders (including agencies, brands and retailers) come together to work towards standardization in the retail media sector.
With an underlying theme relating to 're-imagining retail', panels, debates and breakout sessions helped to evaluate the growth and trajectory of the future of retail media. Challenges were highlighted around the inherent intricacies of the platforms and just what makes the retail media medium unique, including:
The need to validate and measure return on relationship
Nurturing the consumer experience and push for personalization
Advertising to move product off the shelf – physical or virtual
Similar themes discussed during the day include:
Fragmentation and Consolidation
Retail media is in many ways the new era of walled gardens, with each new player creating further fragmentation. This fragmentation has impacted the end-to-end media process from planning through to measurement, with an increasing challenge to activate, measure and coordinate all touchpoints. KPIs, metrics, 'look-back -windows' (and therefore attribution) are often inconsistent, creating a challenge for retailers who are up against "consolidation or evaporation" due to such fragmentation and competition.
A standout quote from the day was that brands are constantly trying to assess if the "juice is worth the squeeze" in the partner selection process. Katie Neil (Coca-Cola) and Cara Pratt (84:51°) broke down this assessment in saying "results and capabilities drive choice, but transparency of measurement needs to lead the standardization and unification of retail".
Data and Measurement
A key challenge to brands and agencies relates to the lack of consistency across data and measurement. There is no single solution or source of truth, with all parties involved struggling with how to consistently measure success. When we discuss the today and tomorrow of retail media, data clean rooms are top of mind for brands to help capitalize on the wealth of first party data but also investigate cross platform/cross network for a more seamless audience-first approach.
Non-Linear Journey
Retail media is constantly looking to drive users to the end point-of-sale. Therefore, whilst validating purchases is crucial, data capture and measurement throughout the funnel is important to help facilitate the consumer relationship. Praveen Menon (CVS Media Exchange) talked about the power of needing to paint the full picture of the customer journey while also measuring the sales impact. Praveen highlighted how particularly Gen-Z audiences are leaning into personalization and looking to buy and support brands that they trust. CVS, who are in a pilot program with Haleon, are looking to leverage loyalty data to not only identify and evolve the best ways to engage with priority audiences across digital and traditional channels, but also in-store and at the point of purchase.
Organizational Challenges
Fragmentation also causes structural and operational challenges within brands and agencies. Claire Wyatt (Albertsons Media Collective) highlighted how spend to their retail platform is being sourced from a variety of places; 50% of spend from other digital channels, 30% from traditional media and 20% shopper marketing budgets. This is creating challenges for agencies with planners and buyers having to balance the different objectives of their client teams. There has also been an acute challenge around capacity and capability at brands and agencies due to the unexpected growth of retail media in recent years.
For more information on the challenges highlighted, please feel free to contact us. The IAB has also published a list of retail media standards to help tackle all the challenges facing all parties, which is available to its members.