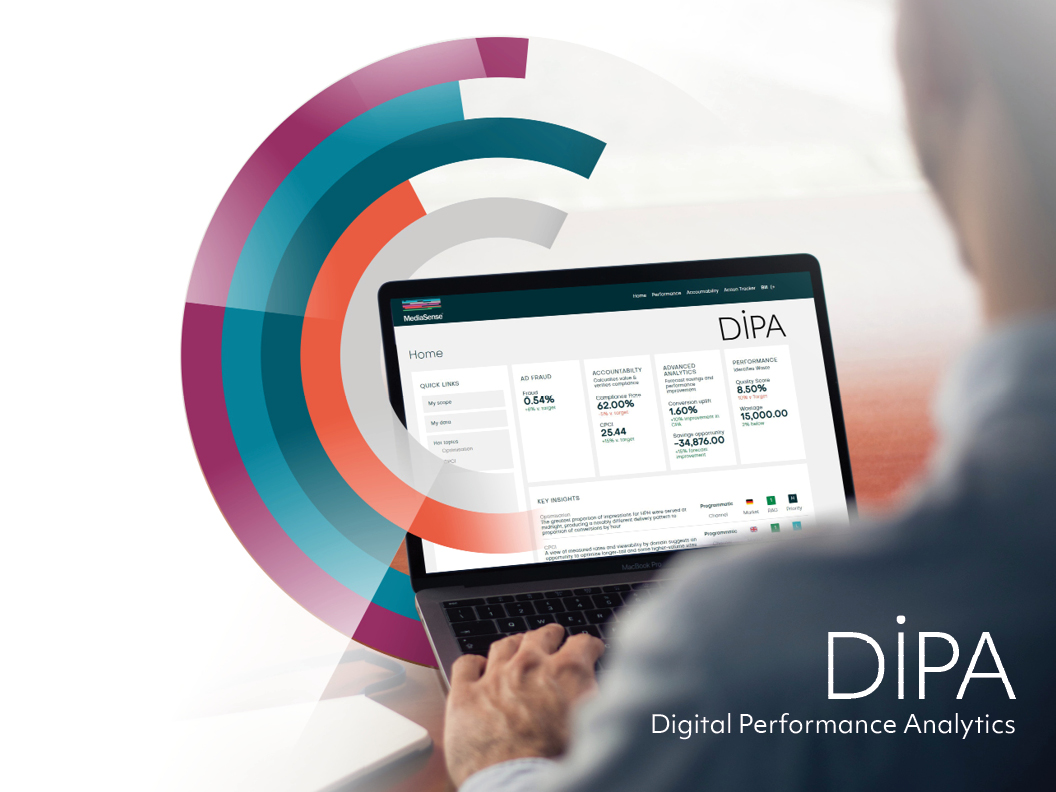 Innovative digital evaluation solution enables advertisers to unlock incremental performance and value from their investments.

Independent global media advisor, MediaSense announces the launch of DiPA™
a digital-first auditing platform. 
Disruption in the digital advertising ecosystem and the need for greater supply chain transparency continues to be problematic for advertisers.  In response to the industry's need for greater productivity, less wastage and a future-facing solution for effective digital performance management, MediaSense have built DiPA™.

Developed with funding from Innovate UK, the UK Government's innovation scheme, DiPA™ is powered by a proprietary insight engine, advanced machine learning techniques and a team of expert analysts and data scientists to unlock incremental value and advantage for brands.


Next Generation Digital Auditing Platform, DiPA™ enables advertisers to:
Identify value and calculation of waste through customisable methodologies
Optimise digital performance and actionable insights through augmented analytics
Address 'past', 'present and 'future' digital performance delivery


The DiPA™ launch builds on MediaSense's 10 year history of innovation and will better equip our clients in driving sustained value and growth from their digital media investments.
Dan Brown, MediaSense Director of Digital Performance comments: "As digital media investment continues to grow in size and complexity, it is essential that retrospective auditing practices are rebuilt. Integrating world-class technology, analytics and insight, we're excited by the potential DiPA™ offers in driving digital media efficiency and growth for MediaSense's clients."
Graham Brown, MediaSense CEO and Co-founder adds: "The launch of DiPA™ marks a shift in innovation for media auditing and a genuine opportunity for clients and the wider industry to drive greater effectiveness in digital advertising. I am delighted that MediaSense has not only been recognised by Innovate UK as a leader in media measurement, but that the investment has enabled us to develop a much needed, future-facing platform to help advertisers unlock true growth." 

Find out more and request a demonstration of DiPA