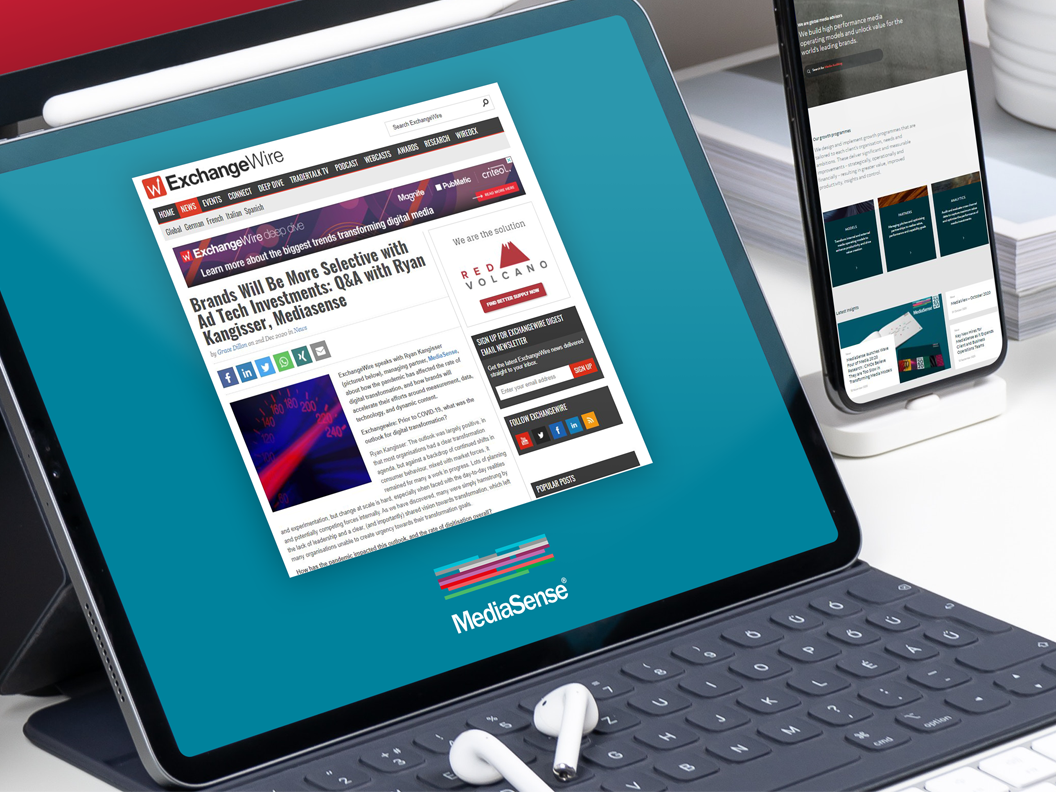 ExchangeWire speaks with Ryan Kangisser, Managing Partner, MediaSense, about how the pandemic has affected the rate of digital transformation, and how brands will accelerate their efforts around measurement, data, technology, and dynamic content.
Exchangewire: Prior to COVID-19, what was the outlook for digital transformation?
Ryan Kangisser: The outlook was largely positive, in that most organisations had a clear transformation agenda, but against a backdrop of continued shifts in consumer behaviour, mixed with market forces, it remained for many a work in progress. Lots of planning and experimentation, but change at scale is hard, especially when faced with the day-to-day realities and potentially competing forces internally. As we have discovered, many were simply hamstrung by the lack of leadership and a clear, (and importantly) shared vision towards transformation, which left many organisations unable to create urgency towards their transformation goals.
EW: How has the pandemic impacted this outlook, and the rate of digitisation overall?
It has definitely injected speed and focus around transformation, but to differing degrees depending on the sector and maturity. One obvious shift is in the focus towards customer data, as organisations look to leverage what they have to drive more timely, relevant, and tailored communications. They are also looking to their data to gather insight on the shifting behaviours and preferences. As a consequence, it has forced organisations to double down on their data infrastructure and capabilities to improve their use of data.
Those with DTC capability have experienced exponential growth through the pandemic, with many established retail businesses seeing one-to-two-year digital transformation targets (e.g. share of DTC revenue) being achieved in a matter of weeks. While these are of course exceptional times, and it is unclear whether this growth is sustainable (or indeed incremental), the improvements made to business operations have put many in a much stronger position to exploit future growth. But spare a thought for those less established, under-resourced, or lacking a scalable data capability, who have reluctantly stalled or paused their digital transformation goals. This does potentially present a new phenomenon where Covid-19 increases the gap between the haves and the have nots.
EW: How has this impact affected the ad tech industry, particularly in conjunction with significant infrastructural changes?
From a pure media perspective, the impact of reduced spend is clear to see, but from an infrastructural perspective, we expect brands to become far more selective in the investments they make around ad tech. With budgets and investment in innovation set to stall, brands will be focussed much more on driving efficiencies and ROI, and therefore look to ways of stripping out non-working dollars and layers of technology which do not add sufficient value. This will likely give rise to further consolidation, particularly if it helps to reduce redundancy, drive operational efficiencies, and enable brands to further leverage their audience data.
EW: From a digital transformation perspective, has the global health crisis generated any surprising positives?
The main surprise (if you can call it that!) is in the improvements to how we work and collaborate, driven by the collective situation we are all in. But with digital transformation in mind, and the ambition held by many brands to become more agile, data-driven, and customer-centric, this crisis has enabled many businesses to pivot much quicker than intended. We've seen over the last nine months some of the most traditional businesses move to a far more collaborative and 'war room' working model where silos, rigid processes, and individual goals are firstly left at the [virtual] door.
The other, more intriguing, positive is what this period will contribute to in terms of measurement, as brands become better equipped to measure genuine incrementality as (and when) they start to reinvigorate key channels and activities, which may have been paused through the crisis. Perhaps this will accelerate the long debated topic of the importance of branding and the optimal relationship between brand and performance marketing.
EW: What do you think the next big developments in digital transformation will be?
Once the technical infrastructure has been established, enabling brands' data to flow through effortlessly (optimistic I know), brands will start to focus much more on their internal capabilities (and processes) to enable them to accelerate their efforts around data, technology, and dynamic content. As we have seen with the continued rise of in-housing, brands are seeking much greater control of their strategy and core data assets, but this continued movement requires a clear talent strategy (hiring and upskilling) mixed with a cultural shift to embrace greater self-sufficiency in their organisations.

This article first appeared on www.exchangewire.com on 02/12/20