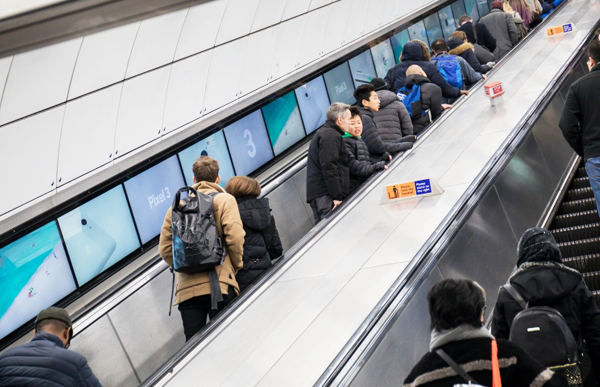 A key insight from our recent Media 2020 & Beyond research highlighted a growing concern for brands that there is an imbalance of investment towards short term performance media at the expense of long-term brand building. Many of these brands are now looking to re-balance the scales and move investment back into media channels that provide rapid brand building through scale and mass awareness.
Television remains key as it continues to deliver strong ROI. However, the profound shift in viewing habits towards on-demand content (with much of it in ad free environments) is reducing supply, particularly amongst under 45's. This is reducing audiences, inflating costs and lowering scale.
In contrast, OOH has been enjoying a digital transformation, with innovative formats, enhanced locations and media owner investment increasing the size and quality of audiences. The latest Route audience data cites an 11% increase in impressions over three months, 36% in a year, and 68% of the population now see a digital screen on a weekly basis.
At the same time the medium is now offering advertisers planning flexibility through location, daypart targeting and utilisation of dynamic creative work. All whilst delivering high levels of coverage against hard to reach young, urban and high-income audiences.
Building Reach
This is all good for advertisers looking to build reach for their brands, you might think? However, all that is 'shiny and new' isn't always covered in gold and caveat emptor principles apply.
All the investment into new inventory comes at a cost, which dictates media owner sales policies creating a disconnect between the pricing of different digital formats & individual sites versus their true worth in terms of coverage potential and impact.
Add to this a significant reduction in the numbers of traditional paper & paste billboards (The 48-sheet universe has reduced from 18,000 to 10,000 sites in 5 years) creates a risk for brands in a fragmented, complex and opaque marketplace where cost-effective, coverage building inventory is harder to access.
As independent advisers, we have seen many instances where OOH budgets are delivering far lower levels of coverage and engagement though overuse of the wrong digital formats.
So, what can advertisers do to engage more closely with the medium and successfully exploit the opportunities that undoubtably exist?
MediaSense Best Practice 
We offer the following best practice principles as a platform to successfully optimise your OOH campaigns:
1. Write a clear brief: to engage your agency planning team and OOH specialists and expect a detailed response, every element of the plan should be fully justified.
2. Agree KPIs and targets: as you would for any other medium so that campaigns are optimised towards reach, frequency, impact, location, mode of consumption. 
3. Talk the language of CPTs not cost per panel: ensure the media plan you sign off is sufficiently detailed; and that the coverage, frequency, regionality and CPT of each element of the plan (including individual locations for the higher capital cost Large Format Digital sites) are rationalised and marked clearly.
4. Plan ahead: Traditional formats drive mass coverage and for ongoing activity should provide the bedrock of your campaigns, but panel numbers are declining so optioning inventory is advisable, early especially in Q4.
5.Be tactical: Supply is rising faster than demand and there is a downward pressure on pricing. There will always be pockets of good quality unsold inventory available, so don't be afraid to hold back budget for your Specialist to 'play the market'.
6. Measure ROI: Research on the effectiveness of different formats, mode of consumption and proximity is thin on the ground so build measures into your marketing effectiveness programme to understand the true worth of different OOH formats for your brands.