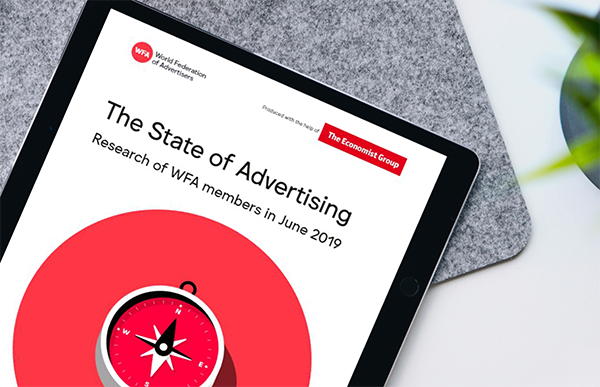 On June 18th The WFA released The State of Advertising report with the headline 'Performance wins advertiser confidence as awareness gains mixed reviews'. The report revealed that while 30% of respondents believe effectiveness of performance has "increased dramatically" over the last five years, just 8% said the same for the top of the funnel.
Overall, 72% of respondents said lower purchase funnel messages had improved on effectiveness over the last five years but only 43% said the same about 'top funnel' performance and 37% of those questioned said effectiveness had declined.
Despite the above statistics, most advertisers are continuing to focus their investment on awareness. Spend is focused on 'top of the funnel' activities for most respondents, with 55% saying most of their investment was going on activity designed to promote brand awareness. Thirty-one per cent were investing evenly between awareness and lower funnel performance with 7% investing mostly in performance messages and channels.
Future priorities included areas currently attracting a lot of advertiser attention – IOT, Voice, VR, AR. The three-year timeline highlighted the ongoing importance of data and programmatic as well as the rising importance of influencer marketing. Fifty percent of respondents said data was an area that would increase significantly, with programmatic in second, scoring 27% on the same measure and influencer marketing attracting support from 11%.
Echoing MediaSense's recent Media 2020 & Beyond report which identified in-sourcing as a minority pursuit and the need to review internal set up and structure before in-housing, the report sees global advertisers rejecting the current hysteria around  the move to in-housing. They cited only one area where they would in-house more than outsource, for low-cost, fast creative executions. Other areas likely to be affected by in-housing included short-form content marketing and influencer marketing.
Future-facing:

Report respondents highlighted their vision for the next five years:
Ads need for reciprocity: Seventy-seven percent supported the statement "in the future advertising will need to involve a value exchange/reciprocity".
DTC brands to inspire: The second most popular statement was "direct to consumer brands will inspire the big traditional advertisers to find new and better ways of connecting with their audiences". Thirty-four per cent strongly agreed and 39% somewhat agreed.
Traditional ads are here to stay: Respondents largely disagreed with the premise that in five years' time there will be no traditional advertising. Just 8% strongly agreed with the statement that: "looking ahead five years, I can imagine a world without traditional advertising formats". Twenty-eight per cent strongly disagreed and thirty-four per cent somewhat disagreed.
Marketers too self-absorbed?: Sixty-seven percent agreed that the industry had become too obsessed with its own problems to the detriment of putting the consumer first.
Brand purpose frequently lacks authenticity: Sixty-five per cent agreed with the statement that most examples of brand purpose fail to resonate with the consumer as they lack authenticity, with 19% strongly agreeing
The full report is available via the WFA website.