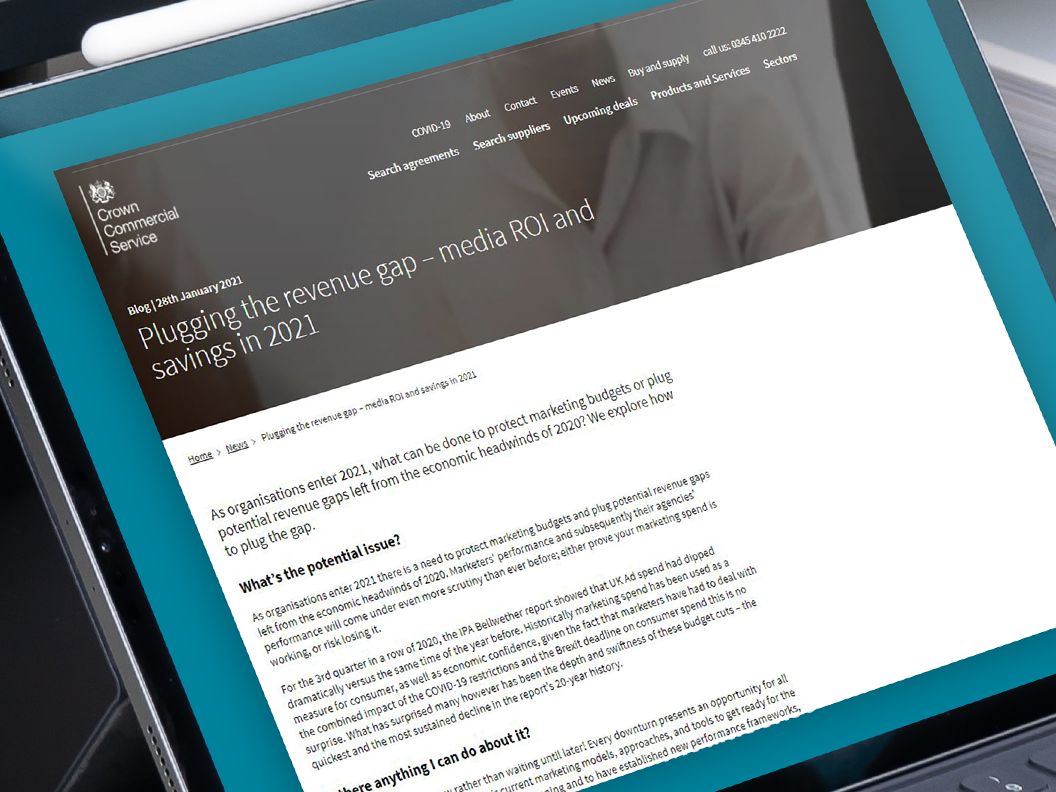 As organisations enter 2021, what can be done to protect marketing budgets or plug potential revenue gaps left from the economic headwinds of 2020?MediaSense Business Director, Julian Smith explores how to plug the gap.
What's the potential issue?
As organisations enter 2021 there is a need to protect marketing budgets and plug potential revenue gaps left from the economic headwinds of 2020. Marketers' performance and subsequently their agencies' performance will come under even more scrutiny than ever before; either prove your marketing spend is working, or risk losing it.
For the 3rd quarter in a row of 2020, the IPA Bellwether report showed that UK Ad spend had dipped dramatically versus the same time of the year before. Historically marketing spend has been used as a measure for consumer, as well as economic confidence, given the fact that marketers have had to deal with the combined impact of the COVID-19 restrictions and the Brexit deadline on consumer spend this is no surprise. What has surprised many however has been the depth and swiftness of these budget cuts – the quickest and the most sustained decline in the report's 20-year history.
Is there anything I can do about it?
Plan for the recovery now rather than waiting until later! Every downturn presents an opportunity for all those involved to re-architect their current marketing models, approaches, and tools to get ready for the turnaround; to be able to hit the ground running and to have established new performance frameworks, which future-proof against subsequent disruption.
Where do I start?
Since March 2020 the MediaSense Consortium have been working alongside CCS to build a performance framework that supports all public sector advertising. The consortium spans media, creative, production and compliance auditing to ensuring that:
Consistent measurable objectives and a means of scoring/evaluating progress are set following the Evaluation Framework of Inputs – Outputs – Outtakes – Outcomes
The media plans developed are focused on delivering the greatest value against set KPIs
The campaign is audited both "as live" and retrospectively to ensure funds are invested appropriately and delivery is benchmarked externally
So how does this help me?
There are three main benefits of adopting this type of performance framework; qualified best practice, quantified added value and risk mitigation intervention.
Qualified Best Practice:
Each stage of the campaign, creation, development and implementation, is scrutinised and challenged. All decisions are therefore fully transparent and recorded. Once complete this record forms the playbook next time round, creating a marketing environment driven by efficiency and effectiveness.
Quantified Added Value:
Both the planning and buying action logs create added value opportunities that can be quantified; each action/resolution carries with it a cost saving.
Risk Mitigation:
MediaSense's professional oversight of planning and buying implementation provides intervention and course correction, protecting the client.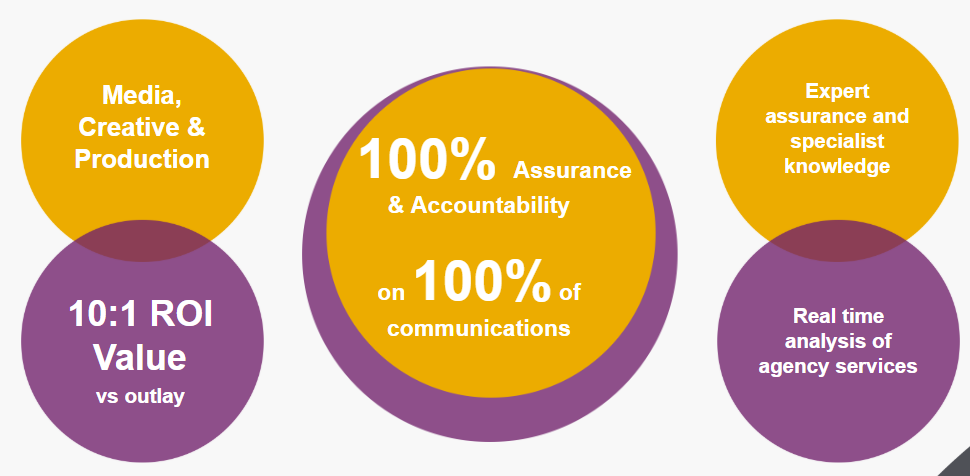 How does this 'live auditing' actually work?
We do this by ensuring that every part of the marketing/media value chain is scrutinised, that the planning process is managed, and that recommendations and optimisations are implemented inflight.
At the beginning of the campaign cycle we review and evaluate all key media agency deliverables (strategy documents, media briefs and RTBs/media plans) within 24 hours of receipt and feed back with our insights and recommendations.
Throughout the development of the strategy, and campaign inflight, we manage and attend all-agency campaign meetings/drop-ins to record and flag issues arising and compile an action log. The cadence (weekly or bi-weekly) generally depends on the length of the activity.
The action log represents the live element of the service, with follow-up meetings arranged with each agency to align and resolve all issues; a record is kept up to date.
Exec summary reports are socialised amongst the key stakeholders, broken out into relevant topic areas – media briefing/planning, media buying, process & reporting – to streamline and speed up issue resolution.
At the conclusion of the project MediaSense present an overall post campaign report & playbook on the work undertaken and the learnings and value delivered, to ensure lessons can be carried forward into future campaigns.
Find out more
Find out more information via the Crown Commercial Service's Communication Performance framework agreement and the MediaSense website.

This article first appeared in the Crown Commercial Service blog 28/01/21