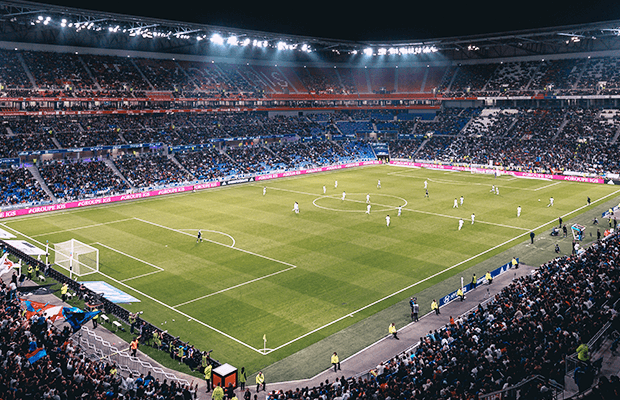 In December Amazon live streamed its inaugural round of Premier League football after paying a reported £90 million earlier in 2019 for the right to show twenty matches a season for three years. It marked the first time Amazon Prime Video had run conventional TV ad breaks in the UK, with audiences treated to creatives from brands such as Papa John's and Heineken.
Such an exploration into sports broadcasting is nothing new for Amazon. 2019 saw them win exclusive UK rights to show US Open and ATP World Tour Tennis and the NFL's "Thursday Night Football" has been streamed by the platform since September.
Encouraging signs
Viewers gave a positive reaction. There was clearly a concerted effort on the part of Amazon to differentiate themselves from the traditional broadcasters, with a nod towards what they perceive as the needs of a younger audience. This manifested itself in features such as an in-game highlights reel and a live on-screen stats feed, an 'every game, every goal' stream, and a feature allowing commentary to be switched off to better capture the atmosphere of the stadium. All of which were generally well-received.
Yet whilst there were no widespread technical issues – a real achievement for what was an unprecedented foray into live sports simulcasting – there remained regular concerns voiced on Twitter over buffering, and streams being at least a minute behind live action.
Amazon themselves are typically clandestine but reports appear to be generally positive, with some outlets putting the number of viewers for the Merseyside derby on 4th December at the 2 million mark. When placed against the context of BT Sport's record of 1.7 million for a single game, this is unquestionably impressive.
Targeting fails to justify the price
And what about advertisers – is there reason to be excited about December's Premier League experiment? Well, a series of 10 second ads by Duracell helped to precipitate a 40% rise in the number of searches for the brand on Google in the 8 days following the opening spot on 3rd December.
Still, this came at a cost. The price – an eye-watering £50 per thousand impressions for Tier A games – is more than double the price of an equivalent match on Sky or BT Sport.
What's more, any reservations about the price-tag were not mitigated by superior targeting, with only a general all adult audience on offer. This would appear to completely underutilise Amazon's abundance of customer data which should set it apart from traditional TV. Moving forward, let's hope Amazon adopt the approach used with its OTT service to allow advertisers to reach a more targeted audience using Amazon's first-party data.
A disconnect between Amazon and advertiser?
Looking to the future, there may be more cause for concern: does a disconnect exist in the motives of Amazon and the advertiser?
To illustrate, let us consider Amazon's overarching business strategy: one of aggressive expansion into a wide range of verticals with the ultimate motive of steering more subscriptions to Amazon Prime. This should come as no surprise when you realise that 52.8% of Amazon's total $232.9B revenue comes from sales of physical and digital products on their online stores, and 48% of Prime members buy products from Amazon.co.uk once a week or more. With the main focus on maximising sales on their site, there is less of an incentive for Amazon to concentrate on advertiser priorities like targeting and measurement.
Brands, on the other hand, surely place viewing figures and reach as their chief motive. ITV, for example, aren't motivated by getting consumers signed up to an e-commerce website but instead are looking to maximise viewership, an objective that more aligns with that of advertisers.
A by-product of Amazon's multiple verticals is that they aren't beholden to a single revenue stream. Nor are they overly reliant on income from ads, which makes up only around 4.3% of total revenue compared to ITV where TV advertising accounts for about half. The end result being that if the price of next season's package was ramped up – by Disney Plus entering the fray for example – to a point at which it began to outweigh the financial benefit of increased Prime sign-ups, Amazon could easily abort the experiment.
Reasons for optimism
Despite these legitimate concerns however, there is a case for optimism. The notable viewing figures for the Merseyside Derby were accompanied by reports that 3rd and 4th December saw the most UK Prime sign-ups in history. In this respect at least, the positive correlation between viewership and subscriptions could be mutually beneficial.
Most importantly, Amazon's continual strategic acquisitions only serve to further deepen their understanding of the consumer, thereby creating a rich database which is highly attractive to advertisers who can use it to more effectively communicate with their customers.
This attractiveness is further bolstered by Amazon's capacity to drive direct sales. An element that gives a revolutionary level of attribution that far outweighs any current offerings, allowing brands to build a superior consumer profile from which other products can be targeted.
Caution is advised
Clearly then advertisers should remain engaged in Amazon's Premier League experiment, particularly if the issues around pricing and targeting can be allayed. But brands should resist the urge to move too much towards a more Amazon-centric strategy when it comes to buying football. Though it's very early days, a shift in platform/advertiser dynamics could be occurring, and potentially not in the advertiser's favour.