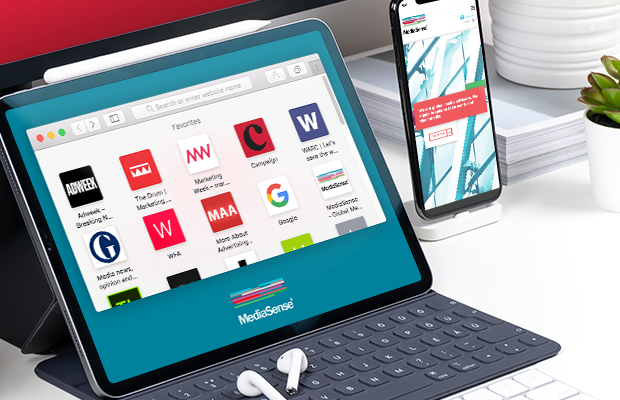 MediaSense Analysts Ben Parnall and Anita Barnett round up the key stories in media and marketing.
Chrome to phase out third-party cookies by 2022
As part of their Privacy Sandbox Initiative, Google seeks to shore up privacy standards across its tools. A major element of this initiative is the removal of support for third-party cookies, which are vital for storing user data. This action will affect the entirety of the Chrome community, more than half of all web users. This announcement has been welcomed by privacy advocates who have been worried that the proliferation of cookies has led to 3rd party data being misused. 
Further reading via Adweek.


Facebook refusing to de-platform political advertisements, including false ones
Despite international political pressure to de-platform political advertisements, Facebook refuses to do so. Rather than limiting them on the company's end, Facebook will instead provide users more control over how many ads they see and make their Ad Library easier to browse for political ads. This decision to continue supporting political advertisements is in contrast with competitors; Google is limiting the visibility of political ads on their services, and Twitter is banning them from the platform entirely. 
Further reading via Apnews.


Dentsu Aegis Network purchases E-Nor analytics platform service
DAN has acquired E-Nor, which offers analytic platform services for many clients such as Accenture, the US State Dept, and Salesforce. DAN plans to fold E-Nor into Cardinal Path, another analytics service platform. E-Nor and Cardinal Path are looking forwards to the merger. With this acquisition, DAN's Google Analytics 360 sales and service skills are exceptionally competent.
Further reading via The Drum.


Google increasing identifiability of paid & organic search results on desktop
Paid searches will now have a prominent icon that shows them to be advertisements, while organic results will display favicons in the same area. This new system ensures that one can determine whether their search results are paid or organic at a glance and increases the identifiability of both types of search results.
Further reading via Twitter.


The Rise of Post-Influencer Culture
This Campaign article discusses the development of influencers and talks about common misunderstandings that marketers may have with regards to influencers. It highlights the need for authenticity and honesty as a critical component of an influencer's offering, and the destructive result of failing to adhere to these key pillars of audience outreach, as well as the onset of "influencer fatigue" that viewers receive after an oversaturation of influencer content.
The article talks about how influencers can provide any trend – no matter how niche or dull – with an online community of invested followers and gives opportunities to previously specialised & small hobbies to expand beyond their original followings into something that can attain global recognition. It talks about going beyond the Instagram/YouTube common dynamic of influencer communities in fields such as podcasting.
Case studies from various brands are provided in the article – ranging from Desperados collaborating with music creatives to turn a swimming pool into a dancefloor, to Cadbury's enlisting "social experimenters" to conduct social experiments with new products, to Dazed running Kylie Jenner's face through AI to distort her in accordance with the AI's perception of beauty – there are many creative applications for influencers.
Further reading via Campaign.


App Annie publishes State of Mobile 2020 Report
The mobile analytics company App Annie has published their latest edition of their State of Mobile report, highlighting key points and upcoming trends that individuals should pay attention to in 2020.
The report discusses the exponential growth the mobile market is experiencing as nearly every numerical aspect of the industry explodes into the billions, from downloads per year (240 billion in 2019) to mobile ad spend (predicted $240 billion in 2020), to the rapid expansion of mobile games' market share (56% of total market with an estimated $100 billion spend in 2020). The report clearly demonstrates the need for agencies and marketers to pay attention to mobile as a channel.
Further reading via App Annie.


Spotify ramps up its podcast advertising capabilities
The streaming platform recently launched Streaming Ad Insertion (SAI), its unique proprietary podcast ad technology that will power Spotify Podcast Ads.  The platform aims to leverage streaming to deliver key measurement capabilities – like impressions, reach, frequency and device type – to podcaster and advertisers for the very first time. 
In the past podcast advertising, although a digital medium, has experienced the same sort of challenges faced by print. Advertisers would roughly know the sort of audience they're reaching but no accurate data on how many readers opened the magazine or newspaper. Now, with the shift in consumption from downloads to streaming this has opened the door to advances in data-driven podcast advertising.
Iconic footwear brand Puma was the among the first to test out the tech and teamed up with Jemele Hill, host of Jemele Hill Is Unbothered – a Spotify original.
Further reading via Mobile Marketing.


YouTube partners with Nielsen
The video platform is integrating Nielsen TV data into Reach Planner, its audience planning tool within Google Ads. Brands tend to use Reach Planner to help find and estimate unique reach for campaigns, however now with the addition of Nielsen TV data, YouTube and TV reach can be measured on a like-for-like basis and advertisers will be able to identify optimal targeting and reach options to achieve their desired objectives.
Further reading via The Drum.


Walmart builds advertising business to rival Amazon
Walmart Media Group, the advertising arm of US retail giant Walmart, rolled out its self-serve ad portal which now allows marketeers to buy ads on Walmart.com programmatically. Previously, the retail giant required advertisers to use its old managed services to launch campaigns across its digital properties and instore. Walmart expressing its USP is its ability to link its digital ads to its enormous store base.
Early last year Walmart in-housed its ad sales after failing to sufficiently monetise its shopper data. Advertising has now become key to Walmart's e-commerce plans and this is a major step for Walmart to make its online platform profitable.
Further reading via RetailWire.