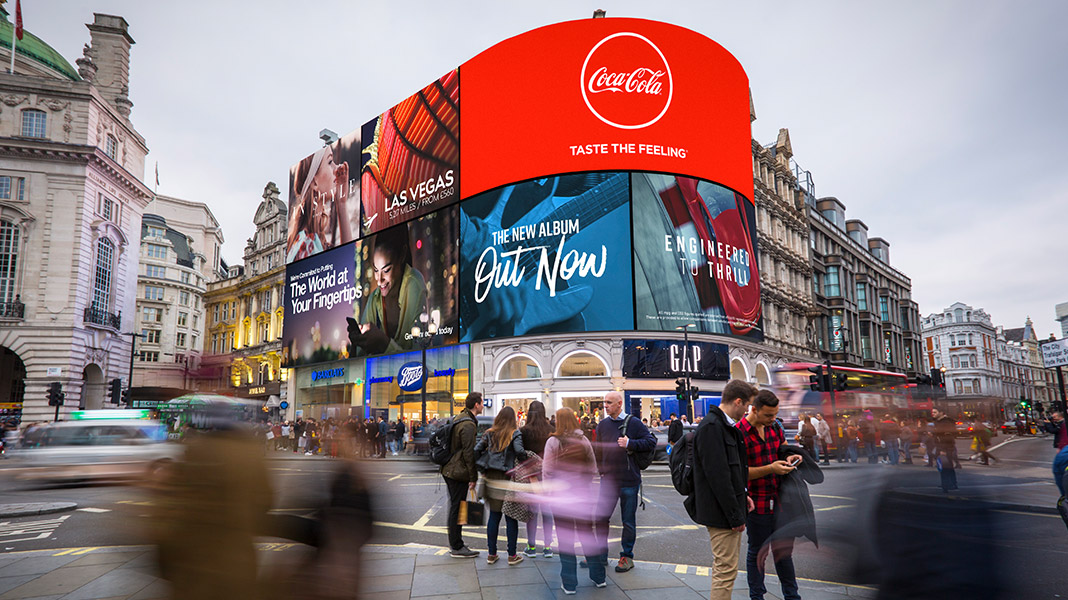 In recent weeks, two major announcements have caught the attention of industry watchers. The first and most eye-catching is the decision by Global, the UK's largest radio media owner, to purchase Primesight, Outdoor Plus and Exterion (holder of the prestigious TFL contract) in an £800m treble-swoop. In under a month, what was the UK's largest radio airtime vendor has gobbled up 35% of the OOH market, vying for dominance with JCDecaux.
The second, while less high profile but no less important, is JCDecaux's retention of the £280m UK rail contract, which came alongside a bold statement that they would deliver a "100% digital transport environment".
These stories form part of a wider industry narrative, one that says OOH is fashionable again. Specialist agencies and vendors argue that the medium offers the opportunity to deliver 'broadcast' eyeballs at scale alongside digital 'narrowcast' audience targeting through the use of Route data. In essence, this is a channel that could offer the best of the online space alongside the collective scale and brand safety of television, positioning the media for advertiser investment throughout the purchase funnel.
Furthermore, Out of Home offers the opportunity to reach young, affluent, mobile audiences at scale, and digitisation of inventory has provided marketers and creative agencies with an enhanced visual canvas and new targeting opportunities. A strong story indeed.
However, significant challenges remain which may hold back potential growth, namely opacity of planning, inflexibility of pricing models and inventory premiumisation. To resolve these challenges a collaborative effort across industry stakeholders be they owners, vendors, trade bodies or auditors is required. To ignore these issues brands risk paying ever-increasing sums to reach a diminished audience. In short, if OOH wants to stand as a key media channel it must accept greater scrutiny.
Opacity of planning
OOH has historically sat within the remit of specialist agency vendors such as Posterscope, Talon, Kinetic and Rapport, typically part-owned by a holding company, but kept separate from the parent.  For many clients, this has meant partner interaction is limited to an annual audit or FY planning meeting.
This distance has served as a double-edged sword. On the one hand, it diminishes the media through a lack of client understanding – reducing investment and brand count. However, it has also given license to some contractors to charge inflated prices for digital formats without scrutiny or pushback. Clients lacking in-house specialist knowledge are unable to easily challenge their agency partners.
The status quo has only been worsened by an inability to access a national record of bookings, making any form of detailed competitor insight virtually impossible. This needs to change.
Inflexible Pricing models
Before, and since the advent of market standard Route data and digitised trading, the buying mechanic for OOH media was the 'cost per panel fortnight'. This served as an effective proxy for audience delivery in an era where reliable statistics did not exist, and the vast majority of posting cycles were fixed at two-week intervals.
This model is no longer fit for the digital age, and it is incumbent upon the industry to help advance the shift towards a cost per thousand trading model. Put simply, 'panels don't buy products, people do'. As an industry, we demand greater transparency in the digital space, and we should apply the same levels of rigour to OOH.
Positively, several agencies have publicly announced a shift to this model. At the same time, media owner play-out reports are becoming common practice, albeit with limited third-party tracking. Brands have the right to expect an open and informed conversation with their partners, and if OOH wants to be judged alongside TV and Online, planners and buyers need to discuss trading currencies, target audiences and campaign optimisation with their clients.
Inventory premiumisation
For too long the premiumisation of digital inventory through arbitrary charges and cost loadings has gone unchecked. While it is arguably a media owner's job to gain maximum revenue from highly demanded inventory, charges should not be applied 'en-masse', or without supporting evidence.
In a world where entire estates such as the JCDecaux Network Rail inventory are being digitised, media owners cannot have their cake and eat it. Advertisers should not be charged premiums for choosing to access inventory for any period other than fourteen days. Similarly, charges levied on advertisers for selecting specific dayparts must be lowered. Our market intelligence suggests that only PM Commuter periods (4 – 8pm) are over-demanded and therefore justify the premium.
Summary
The Out of Home sector is more buoyant than ever before, and the industry can be proud of its continued growth in a period where other 'traditional' channels have endured little more than stasis. However, to continue along this track the industry, clients, and their advisors must all pull in the same direction. Self-interest cannot hold back the charge for change, OOH now needs to play by a new set of rules.