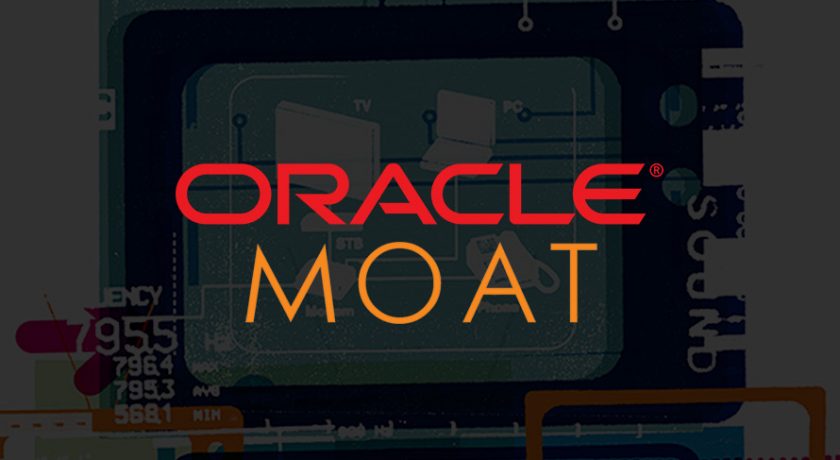 What happened?
Oracle continues its expansion into advertising technology with an announcement on Tuesday that the company will be acquiring the third-party verification vendor, Moat, for an undisclosed sum (but rumoured to be as high as $850m).
As part of the deal, Moat will remain independent within Oracle's Data Cloud suite with the division run by Moat's CEO, John Goodhart, and supported by the entire Moat team.
Who are Moat?
Moat are a third-party verification vendor that focuses on measuring viewability & brand safety on behalf of 600+brands, publishers and agencies. As the fastest growing cloud-based measurement company, Moat raised $50 million last year and have since grown their analytics business by over 100%.
Coining two key industry standards, Cost Per Quality View and Moat Video Score, the company utilise these consumer attention metrics to allow advertisers to measure and optimise engagement for video and display advertising.
Oracle's data cloud and recent acquisitions
Whilst Adobe and Salesforce have been leading their push into AdTech with a focus on executional vendors like TubeMogul (Adobe) and Krux (Salesforce), Oracle has sought to concentrate their efforts on providing a comprehensive analytics suite.
Acquisitions are part of Oracle's growth strategy to expand and strengthen the company's product offering, innovation and partnership opportunities. Some recent acquisitions specific to their Data as a Service (DaaS) offering include:
– BlueKai (2014): data management and analysis
– Datalogix (2014): online to offline attribution
– AddThis (2016): audience segments, scale and insight
– Crosswise (2016): machine-learning based cross-device data
Moat will enhance the current DaaS offering by providing attention measurements to connect the dots between targeting and behavioural data, purchase and ROI measurement thereby allowing a better visibility within the consumer purchase journey.
What's the motivation?
Brand safety and viewability have been key areas of focus for the digital media industry of late due to recent revelations of brands appearing on extremist videos on YouTube and Facebook video viewability mismeasurement.
These events have demonstrated the importance of third party verification services, and through the acquisition of Moat, Oracle has ensured that their Data Cloud meets changing industry demands and provides holistic measurement solutions that help Oracle to differentiate from their competitors.
This deal provides Moat with a connection to sales data, allowing them to measure whether a digital impression has resulted in a desired action for advertisers in bot online and offline environments, With Jonah Goodhart, CEO and Co-Founder of Moat stating that "When Oracle approached us about working together, we began to see the huge potential to jointly drive innovation".
What does this mean for Oracle and the industry?
Oracle's intent for Moat is to remain open and independent, with continuing integration and partnership with companies across the AdTech industry. Customers of both vendors can expect to benefit from increased investment into functionality and innovation of Oracle's analytics platform.
Oracle's purchase of Moat has led to speculation of further acquisitions within the verification space, with suggestions that major enterprise tech firms such as Salesforce and Adobe will be quick to capitalise on increasing market demand for third party verification and snap up remaining vendors for their own platforms.