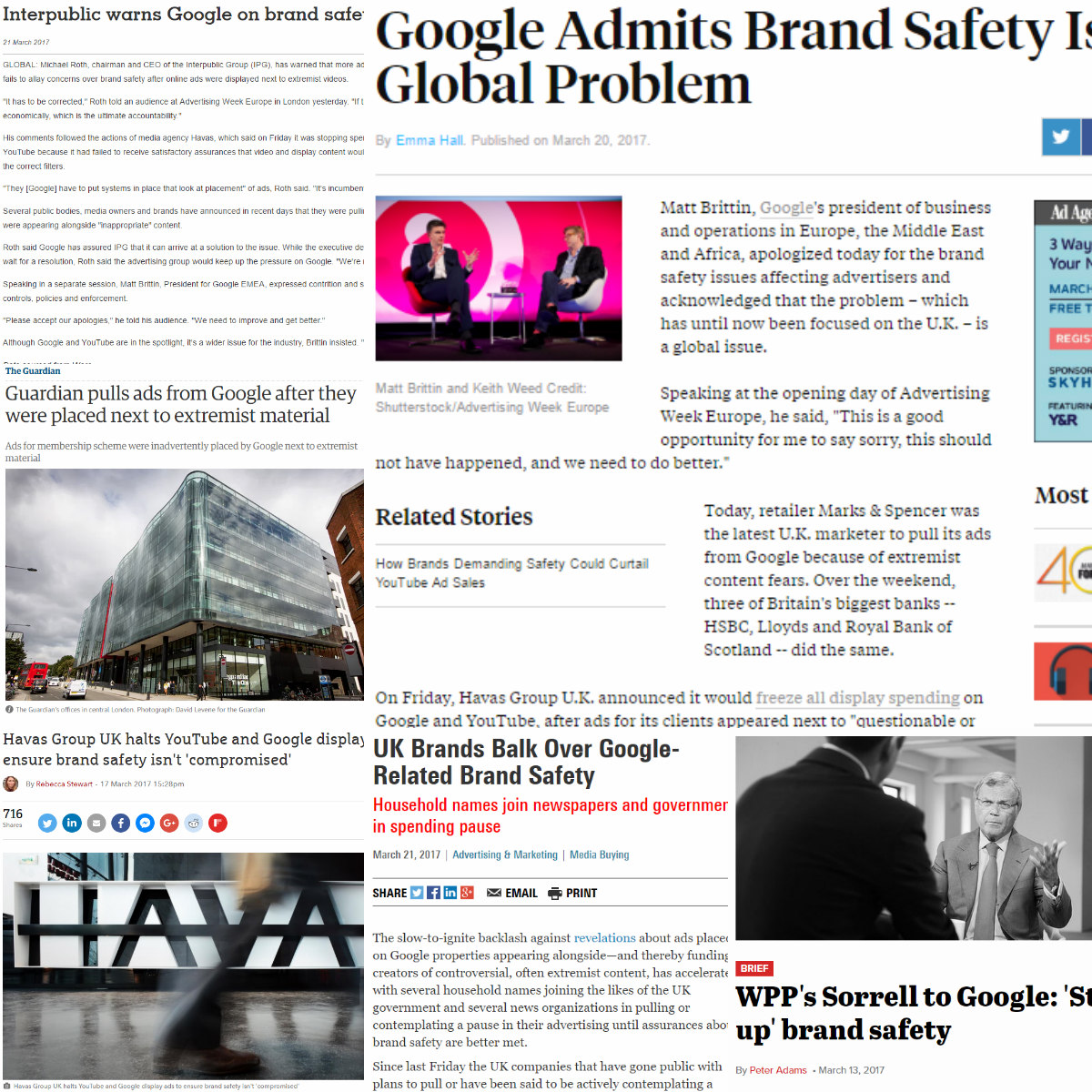 So, what is happening?

A few weeks ago, The Times newspaper published a story revealing brands including L'Oréal, Mercedes-Benz and Waitrose appearing to advertise on extremist videos on YouTube. In the interim, advertisers and agencies have been seeking reassurance from Google that changes will be made to its policies and practices that ensure that this will not happen again.
On Friday 17 March, Havas UK became the first of the media holding companies to pull its ad spend from Google and YouTube, citing that Google were, "unable to provide specific reassurances, policy and guarantees that their video or display content is classified either quickly enough or with the correct filters".
The tech giant has now been summoned to the House of Commons to discuss the growing issue with MPs who are also concerned about government advertisements being served on the platform.
In reality, Havas UK follows a growing number of brands that have pulled spending from the platform, fundamentally due to concerns over brand safety and transparency.
What are the industry implications?

In a statement at Advertising Week, Google's EMEA president, Matt Brittin, apologised for the company's mismanagement of the issue and for failing to address their client's concerns. At the event, he explained that the company will 'accelerate' an inquiry and will focus on three key areas to rectify the issue:
A stronger policy – what is categorised as brand safe
More control for brands – simplifying tools and platform integration
Stricter enforcement – how to accelerate reaction time to flagged content

Although Google has apologised and looks to reassure companies that the issue is being addressed, it is clear from the continuing brand and agency reaction that the company needs to demonstrate the same accountability that marketers have grown accustomed to in the open market.

Will they walk? The brands that have, might or won't pull their Google ad spend

This is not the first time that the industry has had issues with Google's brand safety. An underwhelming reaction from Google has led some brands to take matters into their own hands and withdraw ad spending from the platform. As of Monday 27 March the following brands have revealed where they stand on the issue (including the recent news of J&J, Verizon and AT&T, and fallout of brands in the US including Coca-Cola, Starbucks, and General Motors pulling all ads from Google):
"Brands and agencies alike have become increasingly frustrated with how technology companies have insisted on 'marking their own homework' and allowed brand safety standards to slip." Graham Brown, co-founder, MediaSense

Let's hear from the agencies: Will they stay or will they go?
Global holding companies have released statements expressing frustration with Google's management of this issue:
Dentsu Aegis: STAY
Having expressed how seriously the issue is being taken by Dentsu Aegis, a spokesperson reassured that the agency takes proactive steps to manage the risk.
"We place immense focus on our compliance policies, practices and controls, and our brand safety measures are considered industry leading. As programmatic advertising continues to grow, we need to be ever vigilant and responsive, working together to ensure brand advertising only appears in brand safe environments."

Havas UK: GO
Paul Frampton, Havas UK chief executive and country manager, tweeted that Havas UK "has made decision to protect brands it represents in absence of reassurance or change of policy" and that the company's "position will remain until we are confident in the YouTube platform and Google Display Network's ability to deliver the standards we and our clients expect."

Interpublic Group: STAY (for the moment)
CEO, Michael Roth, said: "We did have one or two clients that had [ads appearing in inappropriate slots on Google platforms] and we discussed it with Google. We believe that we and our clients are entitled to have our works for our clients displayed in a manner that's consistent with the values of our clients."
"Google assured us they would fix this very quickly and so we've chosen to hold them accountable rather than pull our allocations. To the extent it doesn't change we'll hold them accountable by the best way we know how and we'll hold back funds."

Omnicom: STAY
"While we are working with our clients on an individual basis to address the immediate situation, there needs to be a sustainable solution. We are specific about what is and what is not an acceptable environment for our clients – this is not open to interpretation. Google offers highly relevant solutions for many marketers, but it must effectively manage its process to maintain advertiser confidence."

Publicis: STAY
"Publicis Media is committed to being at the forefront of rigorous brand safety, viewability and verification standards and protocols. We hold all publishers, including Google and YouTube, accountable to ensure that the highest standards of advertising are consistently met. Clearly, Google has fallen short of these standards. We are reviewing how we work with them moving forwards."

WPP: STAY
Whilst having been critical of the lack of transparency provided by Google, WPP have chosen not to withdraw ad send from the platform, stating that there is an inherent risk involved with user generated content and that they will be working directly with their clients to provide brand safe strategy and solutions.
Martin Sorrell, WPP Chief said:
"We have always said Google, Facebook and others are media companies and have the same responsibilities as any other media company. They cannot masquerade as technology companies, particularly when they place advertisements. GroupM, which has led or supported every industry initiative to raise standards in the digital media supply chain, is talking to the digital media owners at the highest levels to encourage them to find answers to these brand safety issues. At the same time GroupM continues to advise clients to use all the available brand safety tools to mitigate these risks."

What we think – Our viewpoint
"Brands and agencies alike have become increasingly frustrated with how technology companies have insisted on 'marking their own homework' and allowed brand safety standards to slip. This is simply not acceptable and tech giants must now accept the responsibilities, as well as the riches that come with being media owners. Media agencies also need to play their part and be far more vigilant than many have been to date if they are not to be tarred with the same dereliction of duty brush: they have recently been accused of a being derelict in their fiduciary duties – they have the opportunity to take the high ground on this issue. This is just the beginning of a lengthy discussion for all parties." Graham Brown, co-founder, MediaSense