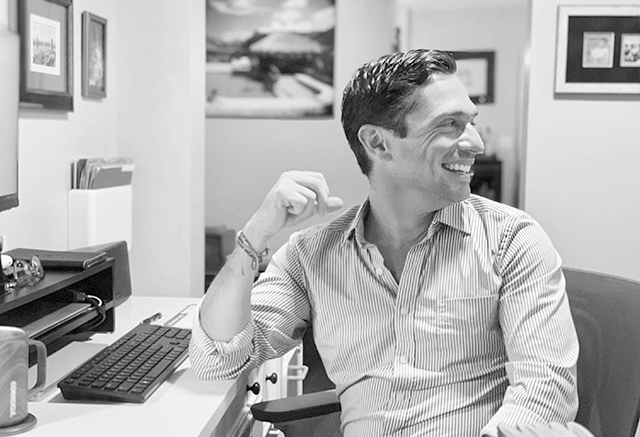 David Strome joined MediaSense in February 2020 to support MediaSense's growing North American client portfolio. His agency, client and global advisory experience makes for a unique perspective on the challenges now faced in the current media landscape. MediaView caught up with David to discuss learnings from the last few months in lockdown.
MV: You're unfortunately based at the epicenter of the Covid-19 pandemic in the States. What has surprised you the most about how the industry has responded to the crisis?

David Strome: It's been a real shock to the system, particularly in New York which is arguably the heart of the global media industry. Despite the fact that some businesses have been more drastically affected, companies have been resilient and adapted more quickly than anticipated. Many have learned a lot in a very short amount of time and are continuing to conduct business in ways they never thought possible.

The industry has quickly embraced remote working, which was perhaps long overdue. There is more seamless integration with access to global talent and resources that did not seem possible a year ago. The massive shift in how consumers conduct their daily lives, from working to shopping, has also forced an acceleration in marketers' digital transformation. The speed at which this was recognized in many organizations, and their ability to rally around this cause remotely, has been extremely impressive. And while we may very well return to some sense of normalcy in due time, I believe this need for greater speed and flexibility will remain. Those who can establish the most agile organizational and operating models will come out the other side set up for success.

MV: How are brands coping with the multiple digital demands they now face – especially in the Covid-19 climate?

DS: Brands that previously relied too heavily on retail have obviously had to fast-track their e-commerce evolution. Changes in the way people are shopping, no matter how long the pandemic lasts, will be broad and permanent. Right now, it may be more about ensuring customer safety, but through those new seamless shopping experiences people are becoming used to a new level of convenience.

Even marketers who were already well established in e-commerce and DTC have had to be creative in the current climate. Consumers' willingness, and preference, to transact online will continue to compound in the years to come and marketers must be ready for that. Brands cannot afford to fail here, and this mentality starts inside the organization. Any silos that exist between brand, e-commerce, media, and procurement must be broken down and a common vision and ambition for how to transform must be embraced.
MV: Are there key learnings from client challenges in these socially challenged times?

DS: Many brands have built their images over the years around bringing people together and the immediate reaction from many during Covid was to highlight the sentiment that 'we're all in this together'. We're an incredibly socially driven culture and I think this is part of the reason the US has had such a difficult time controlling the virus – the fact is that many of us feel alone, and it's even more challenging when social and political divides continue to deepen in this country.
Brands need to tread cautiously and remain inclusive, but most importantly they need to listen. Even in a country where Henry Ford once said, "If I asked people what they wanted they would have said 'Faster Horses'!" it's still crucial to allow consumers voices to be heard and to allow them to participate in the dialogue. We're not talking about surrendering control, we're talking about a new kind of empathy and understanding that these times demand of brands.
MV: How is that affecting and transforming media planning?

DS: Flexibility and agility will remain more important that ever. The idea of locking in annual commitments and even long-term programs and sponsorships with specific vendors carries more risk than it used to. It doesn't allow marketers to react to all the turmoil that will persist around the pandemic. Securing quality inventory, programming alignments, and event-sports sponsorships is still important for building brand equity, but marketers must be prepared to change on a dime. This has a profound impact on the close connections required between internal teams and external partners to quickly adapt plans and content.
Re-examining ways of working and how decisions flow through various stakeholders and partners more seamlessly is something all clients, agencies, and media vendors should be doing right now. If you don't get those connections right, it doesn't matter how smart you are or how much resource and technology you have. They must be built to work like a well-oiled machine… This is how we are working with some clients, to reimagine their media 'chassis' and ensure they have the proper foundation to quickly adapt or 'bolt on' new technologies and capabilities.
MV: Regarding Pitch Management there's a lot of industry commentary regarding 'ripping up the rulebook' – what are you seeing in global reviews?

DS: I personally don't believe there was ever a 'rulebook'. Each partner selection and agency review should be completely customized to the category, culture, unique challenges, and ambitions of the marketer. Understanding these elements up front, designing the process accordingly, and aligning all the key stakeholders (client, agency, consultants) has certainly become more challenging in a remote world. However, we've found through some of the recent reviews we've managed that there are genuinely positive changes. Generating chemistry and teamwork are absolutely possible in a virtual environment and can even bring a new kind of camaraderie and humility to the process.
The 'theater' of the in-person pitch has been replaced with a more human and empathic element. You have the opportunity to see people in a different light, and I do believe that understanding the people you will be working with on all levels is one of the keys to a successful future partnership. Overall, the process will continue to become much more efficient as well. Unnecessary steps will be eliminated, tasks will be kept tighter, and meetings shorter, with fewer participants. New doors are also being opened in terms of operating model design, and there is greater access to global agency talent and ease in connectivity and best practice sharing across geographies. We can't predict what the future holds in terms of Covid, but there will no doubt be lasting positive effects on how clients and agencies approach pitches moving forward.
MV: How will this evolve throughout 2020 and into 2021?
DS: A number of pitches have been delayed in 2020, we'll see a lot more action in 2021. And if there is in fact another 'MediaPalooza' on the horizon, it will be quite different from what we've seen in the past. Transparency and cost efficiency are still important factors, but they are unlikely to overshadow client's renewed focus on media effectiveness and securing top talent capable of helping them drive business growth. The good news is that we've all learned a lot this year. Agencies have embraced the change are much better prepared for the volume of activity ahead, and so are we.
MV: How has the industry evolved from your view of the world?

DS: Having worked 10 years each in media agency and client roles, I've had a unique view of the challenges that exist across both. It's incredibly difficult for agencies and media partners to understand the political dynamics and silos that exist within some marketing organizations, and clients are generally not completely transparent when articulating these factors. This is one of the key blockers to brands achieving their media ambitions, but it is something we are helping our clients tackle in an increasingly complex ecosystem.
Brands are developing more consumer-centric organizations and internal operations that are better prepared to move quickly and thoughtfully. Agencies, media, and technology companies will need to meet them on this journey and improve the way they work as well, delivering the best tools and talents to service clients more effectively.