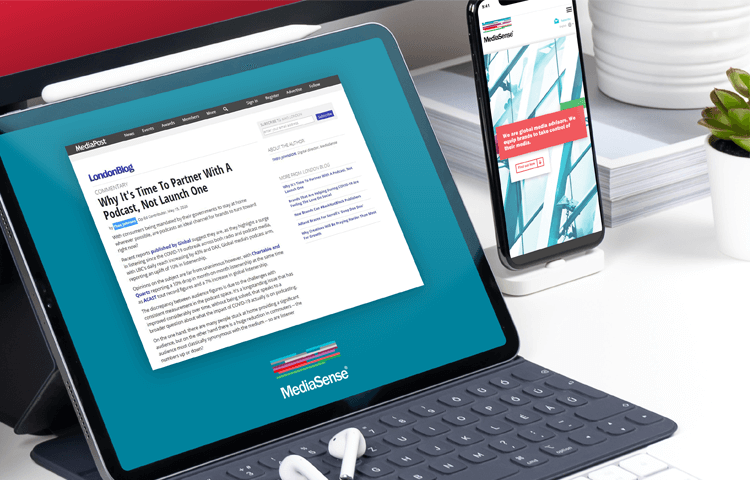 With consumers being mandated by their governments to stay at home wherever possible, are podcasts an ideal channel for brands to turn toward right now?
Recent reports published by Global suggest they are, as they highlight a surge in listening since the COVID-19 outbreak across both radio and podcast media, with LBC's daily reach increasing by 43% and DAX, Global media's podcast arm, reporting an uplift of 10% in listenership.
Opinions on the subject are far from unanimous however, with Chartable and Quartz reporting a 10% drop in month-on-month listenership at the same time as ACAST tout record figures and a 7% increase in global listenership.
The discrepancy between audience figures is due to the challenges with consistent measurement in the podcast space. It's a longstanding issue that has improved considerably over time, without being solved, that speaks to a broader question about what the impact of COVID-19 actually is on podcasting.
On the one hand, there are many people stuck at home providing a significant audience, but on the other hand there is a huge reduction in commuters — the audience most classically synonymous with the medium — so are listener numbers up or down?
Podcast trade newsletter Hotpod carried out some research with Ad Results Media to investigate download trends pre- and post-quarantine and, somewhat surprisingly, the overall numbers are flat at an aggregate level.
This appears to suggest that at a macro level, the positive and negative changes in podcast listener behaviour are currently cancelling each other out, for the time being the channel is holding its popularity.
With podcasts retaining listeners it's a safe channel for brands to place ads overall, but there are definite nuances, with significant shifts in download figures when the data is broken out by genre. 
News, Politics and Science shows have seen interest increase dramatically since the quarantine was introduced while other genres — in particular Sports (which accounts for a considerable volume of UK podcast output) — have seen numbers drop due to the cessation of the key activity on which their content is predicated.
Knowing this data on genre means consideration must taken as to where an ad should be placed for maximum ROI.
Customising your brand message according to the podcast your ad is appearing on is crucial in these times — both in terms of the audience you are trying to reach and the podcast genre your message is appearing alongside.
A generic ad will not generate cut-through, and could even offend listeners if it jars with the rest of the show's content.
Better still, if there is an option to have the podcast hosts read your ad, this lends credence to your message and reduces the number of listeners who skip the ad.
Podcast hosts reading brand ads is also a practical solution to the current workplace restrictions, removing the need to book the actors, studio and production facilities required to create a standard audio ad.
The other notable finding from Hotpod's research is the discrepancy in performance between new and established podcasts, with "smaller shows… suffering, and the larger shows… seeing massive gains."
From a brand advertising point of view, the message is clear: now is not the right time to create your own podcast.
Generating cut-through will be exceptionally difficult, and flies in the face of audience trends.
Instead, creating partnerships with established, popular shows is a far more effective way of generating awareness and consideration and enabling your brand to leverage the existing positive sentiment fans have for their favourite shows both during and after the lockdown.
Whether aggregate podcast listenership trends have changed since quarantine is somewhat immaterial.
There remains a huge audience who love the channel, trust the show hosts and consume the content more attentively than in any other media.
Brands have a real opportunity to take advantage of this platform — working with podcast hosts to create engaging, memorable messaging that positions them as podcast advocates who are there to support podcasting both during the current crisis and beyond.
First published on MediaPost 15/05/2020.