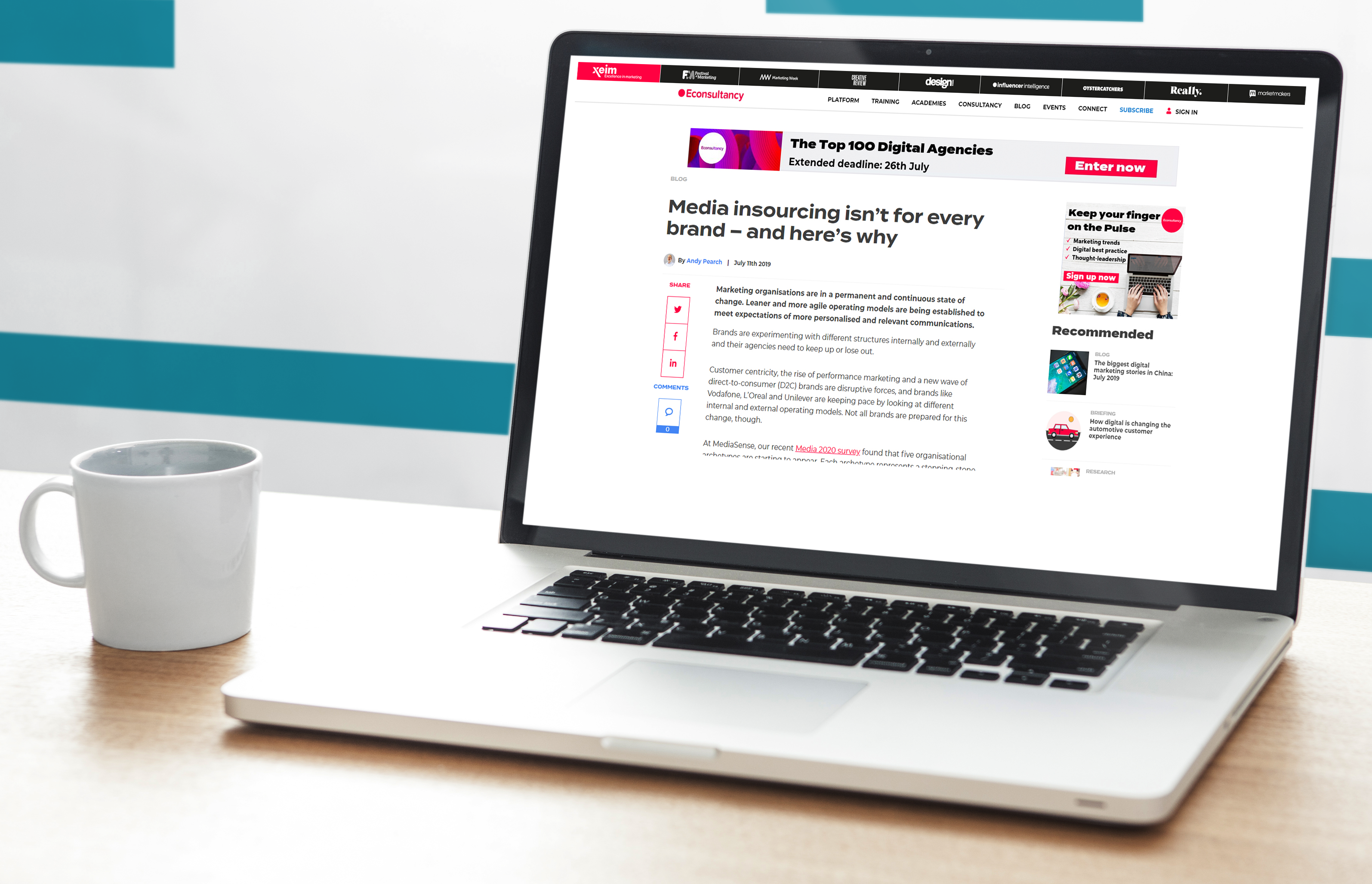 Marketing organisations are in a permanent and continuous state of change. Leaner and more agile operating models are being established to meet expectations of more personalised and relevant communications.
Brands are experimenting with different structures internally and externally and their agencies need to keep up or lose out.
Customer centricity, the rise of performance marketing and a new wave of direct-to-consumer (D2C) brands are disruptive forces, and brands like Vodafone, L'Oreal and Unilever are keeping pace by looking at different internal and external operating models. Not all brands are prepared for this change, though.
At MediaSense, our recent Media 2020 survey found that five organisational archetypes are starting to appear. Each archetype represents a stepping-stone on the pathway from high dependency to self-sufficiency in media capability.
Committed Outsourcers

The first archetype are 'Committed Outsourcers'. These are typically large, legacy businesses such as FMCG or pharma companies which do not have the business need, resource, appetite or capability to consider insourcing and are committed at least for now to outsourcing to their agency. This is not necessarily a negative, these brands gain control by recruiting an in-house media expert who manages the agencies on their roster.
Natural Collaborators

The next archetype are organizations which have customer data assets but not the resources, capability or culture to be self-reliant. These are 'Natural Collaborators' and tend to operate within sectors like automotive, entertainment and grocery. They nurture strong agency relationships and use co-location and co-ownership as a way to learn, see and feel media technology in a safe collaborative environment to gain agility.
Elective Collaborators

Right in the middle sit the 'Elective Collaborators'. These are typically D2C businesses which have the resources, capability and confidence to insource but choose a hybrid, collaborative agency relationship model. For example, many omnichannel retailers and technology companies see great value from agency collaboration and insource selectively while encouraging their agencies to lead on strategy, innovation and execution.
Adaptive Insourcers

'Adaptive Insourcers' are the penultimate archetype. These are most likely to be large global organizations with significant marketing spend and human resources, which are on a marketing transformation mission. Their aim is to restructure, repurpose and retrain internal teams to reduce reliance on their agency roster, absorbing agency specialisms to become more customer-centric, agile and lean. We have seen telecommunications and media companies on this mission in recent times.
Natural Insourcers

Arriving at the end of our journey and achieving full independence are the 'Natural Insourcers'. These contemporary businesses are D2C, data-driven and highly centralised, serving their customers primarily online. Brands in financial services and travel sectors are most likely to be Natural Insourcers as they have the technical and data management expertise to in-house biddable media and to serve dynamic content. Their end goal is to build a replica agency model within their organization and scope their agency's role as strategic advisors and/or executors of non-biddable media.
Media insourcing is not for everyone

Our survey found that media insourcing is not for everyone, in fact it's for a minority of brands. Most brands settle on the archetype that fits with their business model and culture, and transition one step at a time. Our advice to companies about to embark on media change and wishing to set up a successful media function is to navigate around some key pain points:
Ensure there is synergy and integration between employees, technology and tools
Employ people with deep specialist knowledge who can also work collaboratively
Design an agency model that fits your business and allows flexibility in the future
Take time to understand what data is important to your business
Remunerate agencies for output, operational excellence and business outcomes rather than on time and commission.
Companies which have a strategy for their media function and understand their organisational archetype before embarking on media transformation are well placed to succeed.
The above article first appeared in Econsultancy on 11/07/19 
Download key findings and request a full copy of the Media 2020 & Beyond report here.